A GNU Head, redrawn
For my new Neo-Keyboard [1] I wanted the GNU head from GNU and the plussy from FSFE on the meta/super keys (those which often have a Fenster-Logo). Sadly the normal GNU head [2] did not work very well with the Laser from Schubi, so I grabbed my tablet, fired up mypaint and created a new one, building on the old, but adding more contrast and stronger lines. I hope you like it!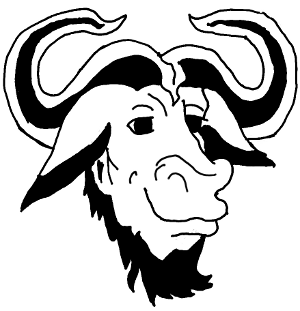 [3]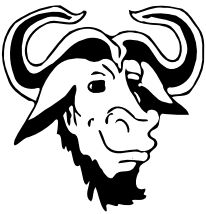 See the attachments for other versions, OpenRaster and SVG source.
And if you like it, please leave a comment!
PS: And my spacebar says "Infinity's ours and infinity's free [4]"! *happy*
Links:
[1] http://neo-tastatur.de
[2] http://www.gnu.org/graphics/agnuhead.html
[3] https://www.draketo.de/files/a-gnu-head-redrawn-clean.png
[4] http://infinite-hands.draketo.de
[5] https://www.draketo.de/files/a-gnu-head-redrawn.png
[6] https://www.draketo.de/files/a-gnu-head-redrawn.ora
[7] https://www.draketo.de/files/a-gnu-head-redrawn-clean.svgz
[8] https://www.draketo.de/files/a-gnu-head-redrawn-clean-simplified.png
[9] https://www.draketo.de/files/a-gnu-head-redrawn-clean-simplified.svgz
[10] https://www.draketo.de/files/a-gnu-head-redrawn-clean.ora
[11] https://www.draketo.de/files/a-gnu-head-redrawn-clean-small.png