Mercurial
Mercurial [1] ist ein verteiltes Versionsverwaltungssystem.
Mit ihm kann man Zwischenstände von der Arbeit an Dokumenten speichern und jederzeit wieder zu ihnen zurückgehen.
Außerdem können mit Mercurial viele Leute zusammen an einem einzelnen Projekt arbeiten und ihre Arbeit automatisch zusammenführen lassen, ohne dass dafür jeder ständig mit den anderen verbunden sein muss.
Eine Analogie zum Unterschied von zentralisiertem VCS (SVN) und DVCS (Mercurial)
Bei SVN sagst du einem Beamten, was du gerne hättest und er gibt dir genau das. Bei Mercurial holst du dir einfach die ganzen Akten nach Hause und lässt dir von deinem Rechner immer raussuchen, was du grade brauchst. Dank effizienteren Algorithmen meist ohne nennenswert größener Platzverbrauch, allerdings viel schneller da du nicht mit anderen Rechnern reden musst.
Warum und wie ich es nutze
Ich verwende es inzwischen für so gut wie all meine Dokumente, und ich habe das Gefühl, dass sich dadurch mein Arbeitsfluss deutlich verbessert hat (vor allem bei meinen statischen Webseiten, aber dazu in einem anderen Artikel mehr).
Und alles was ich brauche ist ein simples
$hg init
$hg add
um mein Repository zu starten, und dann ein
$hg commit -m "Zusammenfassung meiner Änderungen in einer Zeile"
um die Änderungen zu sichern und auch jedesmal auf den Stand zurückgehen zu können.
Und diese extrem kurze Zusammenfassung zu schreiben vergegenwärtlicht mir auch nochmal, was ich eigentlich geleistet habe.
Wenn ich die Sachen Anderen geben will, gehe ich einfach auf http://bitbucket.org [2], erstelle da ein Projekt und mache ein
$hg push https://NUTZER:PWD@bitbucket.org/NUTZER/PROJEKT/ [3]
und schon können andere es sich holen mit
$hg clone https://bitbucket.org/NUTZER/PROJEKT/ [4]
Und sie können dann eigene Änderungen einpflegen und es wieder "push"en, wenn sie mir ihre Änderungen geben wollen. Sie können sogar die Änderungen automatisch packen und mir per Mail schicken, wenn ich ihnen keinen direkten Zugriff auf das Repository geben will:
$hg bundle PROJEKT.bundle
Es speichert automatisch die Änderungen zu meinem Repository (es sei denn, der Nutzer gibt etwas anderes an) und ich kann mir dann überlegen, ob ich die Änderungen einpflege, und auch welche ich davon übernehmen will.
Wenn ich sie einpflege, sieht mein's danach so aus, als hätte der andere Nutzer direkt bei mir gearbeitet (enthält aber weiterhin auch meine Änderungen).
Anders gesagt: Mercurial zu verwenden ist verdammt praktisch.
Kurze Einführung in Mercurial mit TortoiseHG (GNU/Linux und Windows)
Note: This tutorial is for the old TortoiseHG (with gtk interface). The new one works a bit differently (and uses Qt). See the official quick start guide [5]. The right-click menus should still work similar to the ones described here, though.
Das Repository herunterladen
Wenn du TortoiseHG [6] installiert hast, kannst du dir das Repository auf den Rechner laden, indem du in einem Ordner rechtsklickst und im Menü "TortoiseHG" die Option "Clone" wählst (Aktuell brauchst du für den Dialog noch Windows, die anderen gibt es auch in GNU/Linux).
Rechtsklick-Menü, Windows:
Clone, GNU/Linux: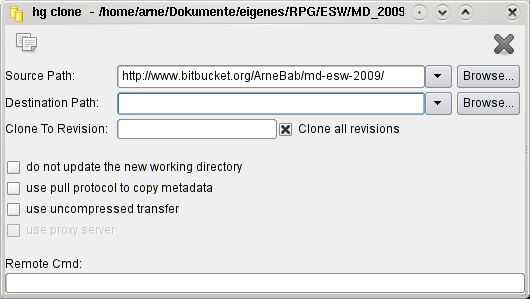 In dem Dialog gibst du einfach die URL des Repositories ein, also z.B.
http://www.bitbucket.org/ArneBab/md-esw-2009 [7]
ein (das ist auch direkt die Adresse des Repositories im Netz).
Wenn du dich auf bitbucket.org [2] anmeldest, findest du eine clone-Adresse direkt auf der Seite, über die du auch Änderungen hochladen kannst (sie enthält deinen Login - ich kann dir auf der Seite "push" Zugang geben).
Arbeitsfluss mit TortoiseHG
Du hast damit zwei grundlegende Möglichkeiten: Änderungen lokal speichern, zwischen den Änderungen vor und zurück wechseln, und Änderungen mit anderen synchronisieren (ich vermute ich erzähle dir gerade zum Gutteil reduntantes Zeug, aber ich schreibe dann doch lieber zu viel als zu wenig - wenn ich schon viel zu selten zum Schreiben komme :) ).
Um Änderungen zu speichern, kannst du einfach im Rechtsklick Menü (in dem Ordner) "HG Commit" wählen. Wenn Dateien HG noch nicht bekannt sind, musst du sie mit "Add Files" einfügen (Die Checkbox neben der Datei anklicken), damit du sie committen kannst.
Um zu früheren Änderungen zurück zu gehen, kannst du im "TortoiseHG" Menü "Checkout Revision" nutzen. In dem Dialog kannst du dann die Revision auswählen, zu der du willst, und das Icon links oben nutzen, um die Dateien im Ordner auf die Version zu bringen.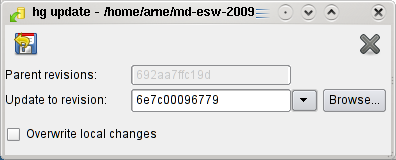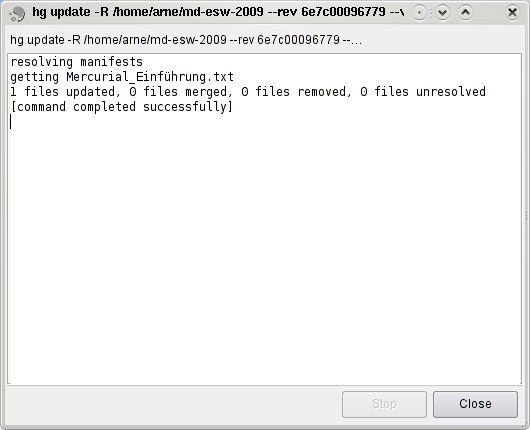 Synchronisieren kannst du, indem du rechtsklickst und im Menü "TortoiseHG" den Punkt "Synchronize" wählst. In dem aufspringenden Dialog kannst du "pushen" (Updates ins Netz laden - Pfeil hoch mit Strich drüber), "pullen" (Daten auf deinen Rechner ziehen - Pfeil runter mit Strich drunter), und z.B. schauen, was du pullen würdest. Ich denke, dass den Dialog zu nutzen schnell natürlich wird.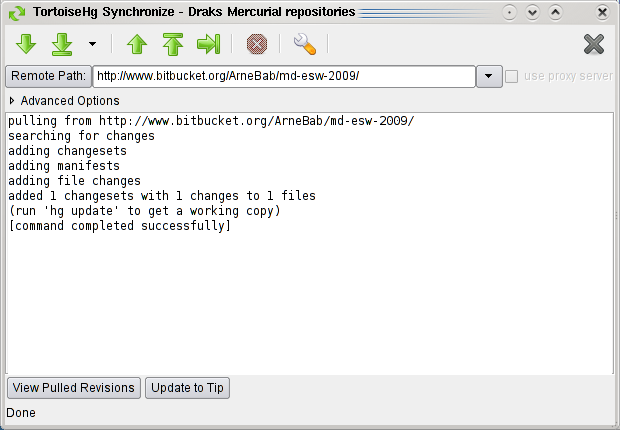 Viel Spaß mit TortoiseHG [6]! :) - Arne
PS: Es gibt dazu im Netz auch eine englische Einführung in TortoiseHG [8] und einen englischen Überblick zu DVCS [9].
PPS: md-esw-2009 ist ein Repository in dem Baddok und ich eine gemeinsame Runde Mechanical Dream [10] geplant haben.
PPPS: Auf meinen englischen Seiten [11] habe ich nun auch eine englische Version dieses Artikels [12].
Leistungstests und Vergleiche, DVCS: Mercurial (hg) vs. Git vs. Bazaar(bzr), ...
Vergleiche | Comparisions
| | |
| --- | --- |
| Es gibt inzwischen einige schöne Vergleiche von verschiedenen verteilten Versionsverwaltungssystemen im Netz, und da ich sie sowieso lese, habe ich hier jetzt eine Linkliste erstellt. | There is now a nice collection of comparisions between distributed version tracking systems, and since I read them anyway, I decided to create a list of links. |
Englisch
Deutsch
Warum Mercurial | Why Mercurial
Links zu Leuten, die schreiben, warum sie sich für Mercurial entscheiden haben.
Webseiten einfacher aktualisieren mit Mercurial und lftp
-> Webseiten auf den FTP-Server laden wird einfach "hg push".
Ich schreibe seit langem eigene Webseiten, und die Notwendigkeit, sie jedesmal von Hand auf den Server hochzuladen, wenn ich etwas geändert hatte, war mir seit Jahren ein Dorn im Auge.
Vor kurzem habe ich nun angefangen, die Webseiten mit Mercurial als Versionsverwaltung zu bearbeiten, und Mercurial hat eine sehr praktische Funktion: Hooks (also Anker).
Damit kann ich einen Befehl ausführen, wenn ich in meiner Versionsverwaltung eine bestimmte Handlung ausführe.
Ich verwende sie, um meine Webseiten direkt auf den FTP-Server zu kopieren, sobald ich Änderungen in Mercurial "push"e.
Das heißt, sobald ich eine Webseite so weit aktualisiert habe, dass ich sie veröffentlichen will, gehe ich nur kurz in die Konsole und tippe
hg push
und schon landet meine Webseite automatisch aktualisiert auf meinem FTP-Server.
Und wenn ich nichts geändert habe, merkt Mercurial das und ruft den FTP nichtmal auf.
Damit es auch bei euch funktioniert, braucht ihr nur Mercurial und lftp. Ich bin mir sicher, es geht auch ohne lftp, aber damit geht es bei mir gut, und es war schnell installiert. Warum sollte ich mir die Arbeit machen, wenn es andere schon für mich gemacht haben?
-> Mercurial: http://www.selenic.com/mercurial/ [43]
-> lftp: http://linux.maruhn.com/sec/lftp.html [44]
Danach müsst ihr nur noch das folgende in hgrc im Repository der Webseite eintragen (in ".hg/hgrc" - Zeilen, die mit "#" anfangen, sind Kommentare):
default-push müsst ihr noch für euch anpassen. Bei mir nimmt es mein Mercurial repo auf freehg.org
------ ------ Datei ------ ------
[paths]
# default-push = http://USER:PASSWORD@freehg.org/u/ArneBab/erynnia/ [45]
[hooks]
# Update my website automatically when I push the repo.
# Explanations: lftp -c 'COMMAND'
# COMMAND:
# open CMD -u USER,PASSWORD FTP_SERVER
# CMD:
# -R: Reverse -> local_source remote_source
# -X GLOB: Glob: Shell-style -< exclude the .hg dir
outgoing = lftp -c 'open -e "mirror -R -X .hg/ ABSOLUTER_PFAD_LOKAL RELATIVER_PFAD_FTP" -u USER,PASS ftp://FTP_SERVER [46] '
------ ------ /Datei ------ ------
Und schon ist es nur noch "hg push", um die Webseiten zu aktualisieren.
Und es wird nur hochgeladen, was sich geändert hat (dank lftp).
Effektiv ist das ein "push content to FTP" mit Mercurial.
Viel Spaß!
PS: Wenn du Webseiten mit noch weniger Aufwand basteln willst, kannst du deine Webseiten auch mit pyMarkdown_Minisite [47] schreiben, einem Projekt, das ich gestartet habe, weil ich nicht alles in HTML kodieren und trotzdem einfache und schön aussehende Webseiten haben wollte. Die Technik in diesem Artikel nutze ich dabei zum automatischen hochladen der Seiten.