Advertisers threatened me on twitter for ridiculing their misleading ad
ArneBab:
2016: Hackers can now steal the #slowblood scanning biometric data from Android phones.

colortext:
Today advertisers answered a tweet with a link to a story about the possibility to steal fingerprints remotely [1] from Android phones with a blatant advertisement for their "superior" "proprietary" technology. When I ridiculed their advertisement, they threatened me. Let's call them colortext and their brand #slowblood.12
I was annoyed at the ad, but I decided to answer with a smile:
2016: Hackers can now steal the #slowblood scanning biometric data from Android phones.
They answered
(Tech) cannot be compromised or recreated unlike fingerprints.
And that's quite a claim, so it just called for a counter:
2017: CCC hackers log into Merkelphone with a 30€ bioprint of remotely copied #slowblood data.3
and added
you get snide remarks for your blatant self-advertisement of proprietary tech.

…and for "can't be compromised" ← that is a HUGE claim.
to which they first answered with a twinkle
…-letting people know there's a superior alternative ;)
but after I replied
or was this an offer to send the hackers your security system so they can test it?

…(in that case I would take back my criticism)
they went on to threaten me:
You are tweeting lies and using our trademark without consent.
I felt a sudden pang of fear. Still I answered
[…] are you threatening me for using the same hashtag as you?

2018: #slowblood developers at colortext realize that 2016 and 2017 were in the future back in 2015
But despite the irony in the text my heart was thumping hard. That threat is a serious one. I reported it to twitter: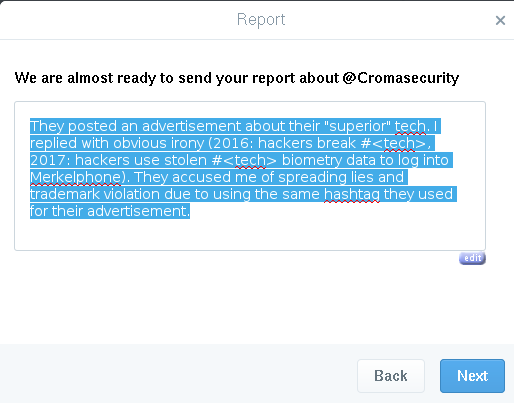 A few minutes later their tweets were gone — but I had expected that and taken screenshots. I'm writing about it, because I consider their actions unacceptable behavior - and because my heartbeat isn't completely back to normal yet. Their harassment works, so they have to be called out for it.
Note: Different from the rest of my page this image is not GPL licensed because it contains text from them as proof of their actions. Their individual lines do not constituate a creative effort, but the combined text might reach the threshold of intentional creative [inappropriate word omitted].

In notification view which includes a few additional tweets (dear twitter, this is a bug!):